6/8/2005
Hey Jim,
It's Deanna. I was checking out the website 'cause I haven't been able to since I have been out here, but I had a little free time today and checked it out. I love what you have done with it. It was nice to see all the pictures of everyone having a good time at the family reunion. I wish I could attend it this year -- as well as every other year I have missed -- but I will not be back in the States by then.
I want to thank you for all you have done to keep the family updated on what everyone is up to. Iím disappointed I will be missing the reunion again this year but let everyone know they are all in my heart. Iíve realized in being out here that a lot of us (Bills family members) donít know each other that well but the fact is, we're all family and thatís what brings us together every year. A lot of people donít have that chance and donít realize what that means to everyone.
I was wondering if you could do me a favor. I had a flag flown out here for the Higgins family as well as for everyone else at the reunion. Since I am unable to attend, I was wondering if you would fly the flag for me at the reunion. At the end of the day I would like you to give it to my uncle Matt for the whole Higgins family, because I know he would rather it be him out here than me.
As far as out here goes, Iím getting by. It gets crazy sometimes but we take it a day at a time and things could be worse so I canít complain.
Well, I have to go for now. I hope to hear back from you soon and again, thank you for everything and thank you for the support.
Take care, XOXO,
Dee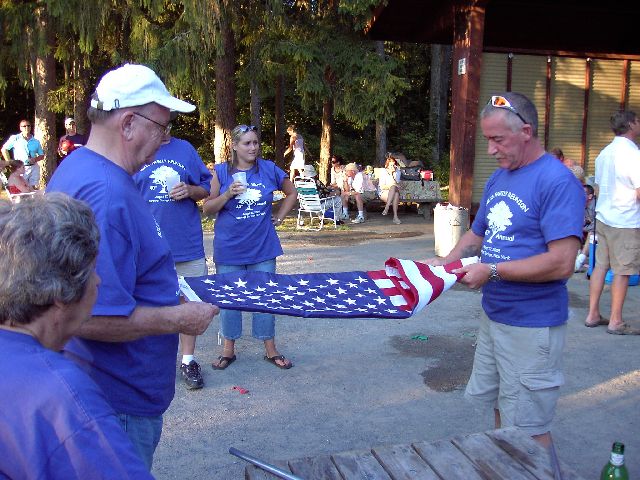 Retired US Marine, Jack Ryan and Matt Higgins, a retired NYPD detective, fold a flag that was sent to the family by Deanna Higgins. Deanna had the flag flown over her base while stationed in Iraq.