Tom Carter announces...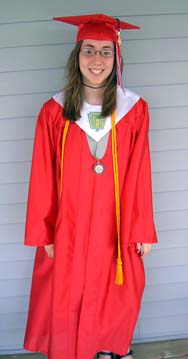 Elizabeth (Beth) Carter, daughter of Tom and Linda Carter, graduated on June 5th with Honors from Mason, Michigan High School as a member of the National Honor Society.
Beth's time in high school was spent taking Advanced Placement courses, being a member of the Marching Band, Symphony Band and Jazz Band (first playing clarinet and then teaching herself trumpet; she finished her senior year as First Trumpet). She also was a valuable member of the Girls Swim Team all four years, and went to the State Finals in her junior year as a member of a relay team.
She will be attending Michigan State University this fall, and plans to obtain a degree in one of the Natural Sciences.
Beth, congratulations from the rest of the Bills family!!!